We recommend personalising your dosage for each product (since the effect will be different for every person). Start with a low amount and gradually increase the dose until the most desired results are reached. This way you can easily drop back to a previous lower amount if needed.
Content:
How to dosage CBD and RSO Tinctures bottles

How to dosage the Amsterdam RSO oil

How to dosage the Amsterdam 50% CBD oil

How to dosage the Amsterdam Edibles

How to Vape
1. Administrating the
Amsterdam CBD Drop Bottles and RSO Tinctures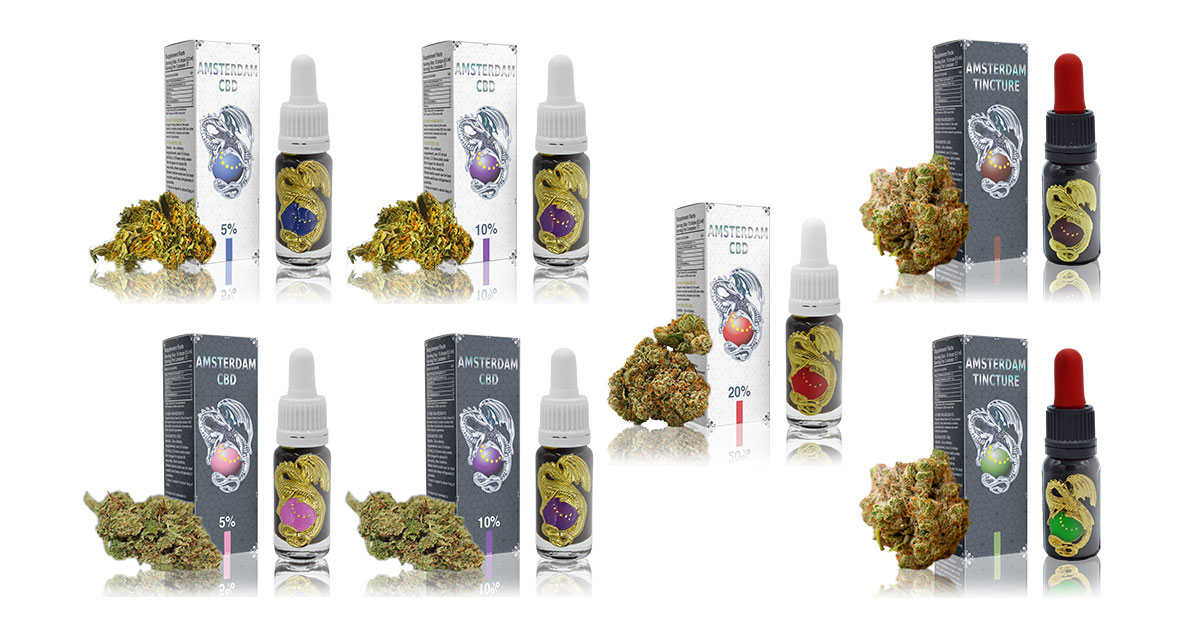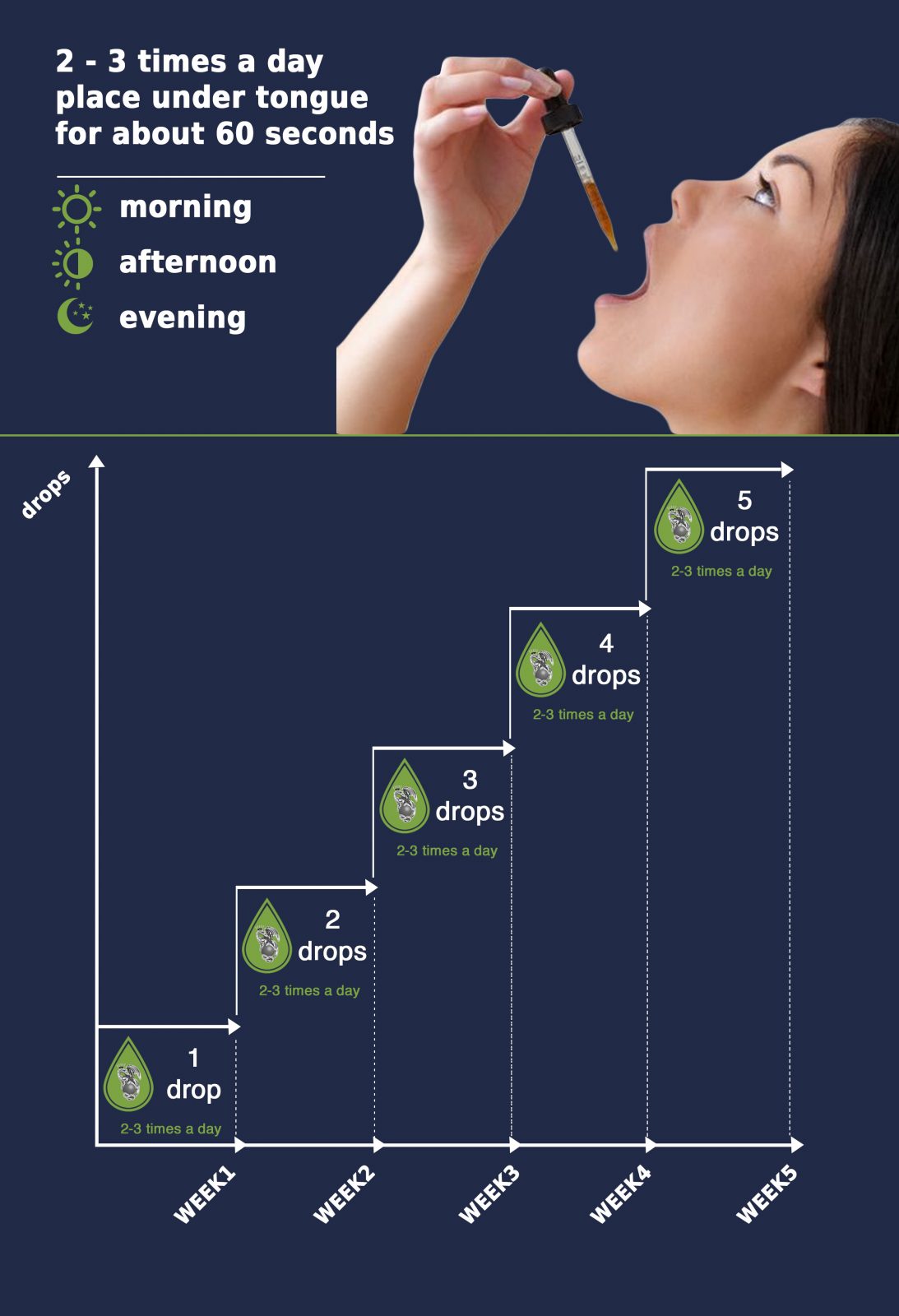 A 10ml bottle will usually last for around 15 – 30 days, depending on your usage and whether you stay increasing the dosage. A 10ml bottle contains around 200 drops, therefore if you use on average 3 drops per day, you will manage to use it for a month.
2. Administrating the
Amsterdam RSO Oil Syringes (1ml + 10ml)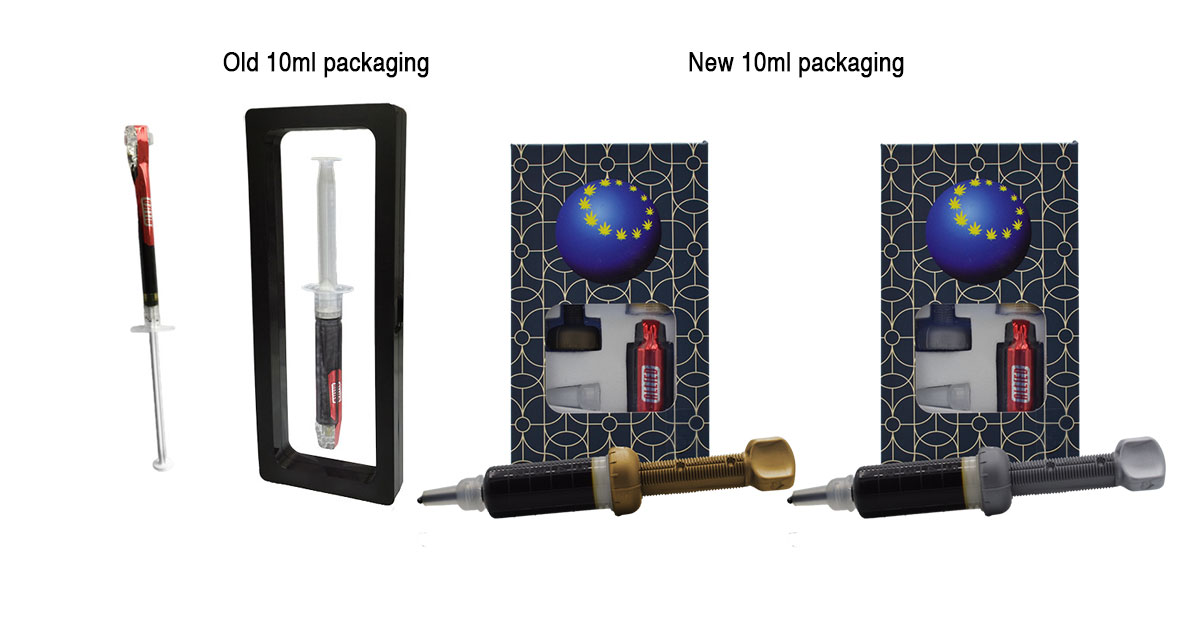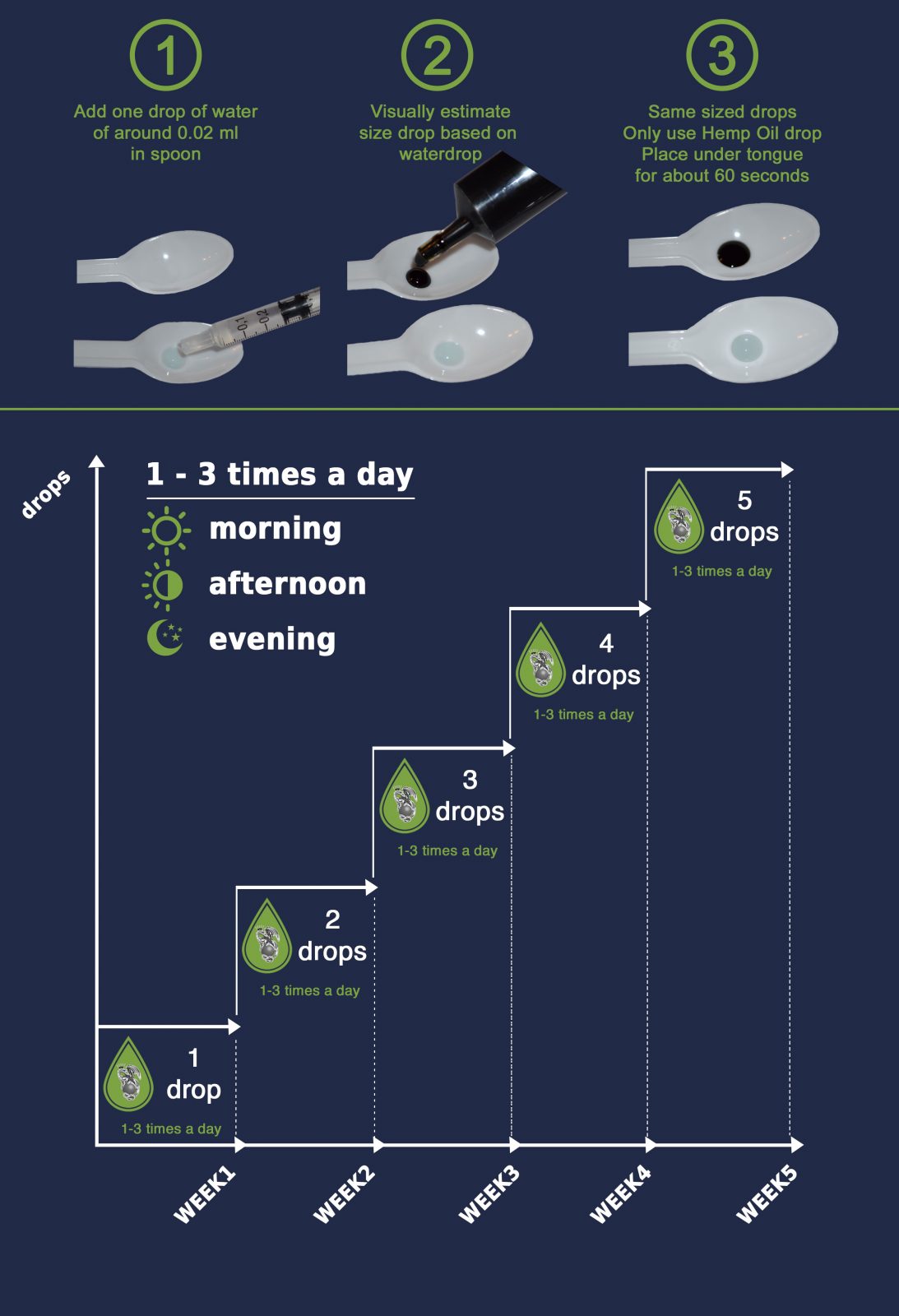 ADDITIONAL NOTES FOR THE AMSTERDAM RSO OIL
1 drop is in this example around 0.02 ml.
IMPORTANT!
KEEP THIS PRODUCT OUT OF THE REACH OF CHILDREN AND PETS. If a child puts the RSO-oil in his or her mouth or swallows it, take it away from the child and contact a doctor immediately. Do not drive a car or operate machinery until you know how it affects you. While taking the RSO-oil, do not drink alcohol, or take other drugs that have an effect on the central nervous system (such as sedatives or hypnotics). Unless advised by your doctor, do not use the RSO-oil if you are pregnant or nursing.
PRECAUTIONS
Be very precautious while using this product if you:
have or had heart disease
have or had cardiac disorders because of occasional hypotension, possible hypertension, syncope, or tachycardia
have current or a history of drug abuse
have current or a history of alcohol abuse
have or had mental health problems (mania, depression, schizophrenia)
have a history of seizure disorder and/or seizure-like activity
have allergies to drugs
are pregnant or nursing, or become pregnant
How to start
The first 2 – 3 weeks when starting the treatment with the RSO-oil are often quite difficult for some people, as your body has to build up tolerance. Start in the first week with a small amount of 0.02 ml, in order to help your body get used to it (the syringe is precise up to 0.01ml, this amount is achieved by turning the syringe-piston one knot, see the video above). In the second week slowly build up and increase the daily dosage. The gradual dose increase by increments is taken until the desired results are obtained.
Duration of effect
The RSO-oil has an onset of action of approximately 0.5 to 1 hours and peak effect at 2 to 4 hours. Duration of action for psychoactive effects is 4 to 6 hours, but the appetite stimulant effect may continue for 24 hours or longer after administration.
Feeling drowsy, tired and sleepy is a normal reaction. Sleeping 8 – 10 hours a day is also normal.
If you do not feel well after intake (nausea or dizziness), then you could take a glass of water with honey or anything sweet. This will help to recover faster from nausea or dizziness induced by the sudden lower blood pressure after oil intake. Still, if this does not help sufficient then the best thing to do is to take a lower dose for a couple of days before increasing again.
The oil can best be kept in a cool and dark place. Placing it inside a fridge will slightly improve the taste.
Example on how to administrate 60 ml of the
Amsterdam RSO Oil Syringes
3. Administrating the
Amsterdam 50% CBD Oil Syringe (10ml)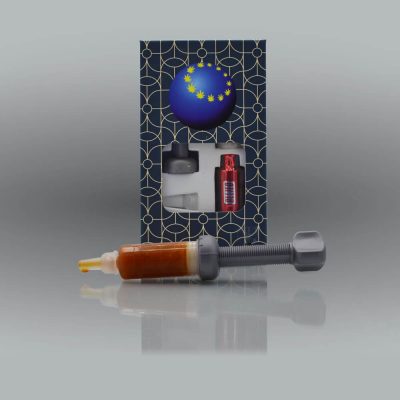 As a dietary supplement, the Amsterdam 50% CBD oil can be used once or twice daily. As there are no side-effects, you can also use it in the morning or afternoon.
The CBD oil can be ingested orally, by placing the oil under your tongue for a couple of minutes before swallowing, in order to uptake as much as possible CBD in your bloodstream. We recommend personalising your dosage and for example start in the first week with a small amount of 0.1 ml (the syringe is precise up to 0.01ml, this amount is achieved by turning the syringe-piston one knot, see the video above). In the second week you could try to slowly increase the daily dosage up to 0.5 ml – 1.0 ml.
How long a 10ml syringe will last all depends on your personal dosage preference and will be different per person. E.g. if you use 0,1ml per day in the first week, and then slowly continue increasing the daily dosage up to 0.5 – 1.0 ml per day, then a 10ml syringe can last from 3 – 4 weeks.
Store away from sunlight, heat and humidity, keep refrigerate after opening
4. Administrating Edibles (Cookies, Honey and Peanut butter)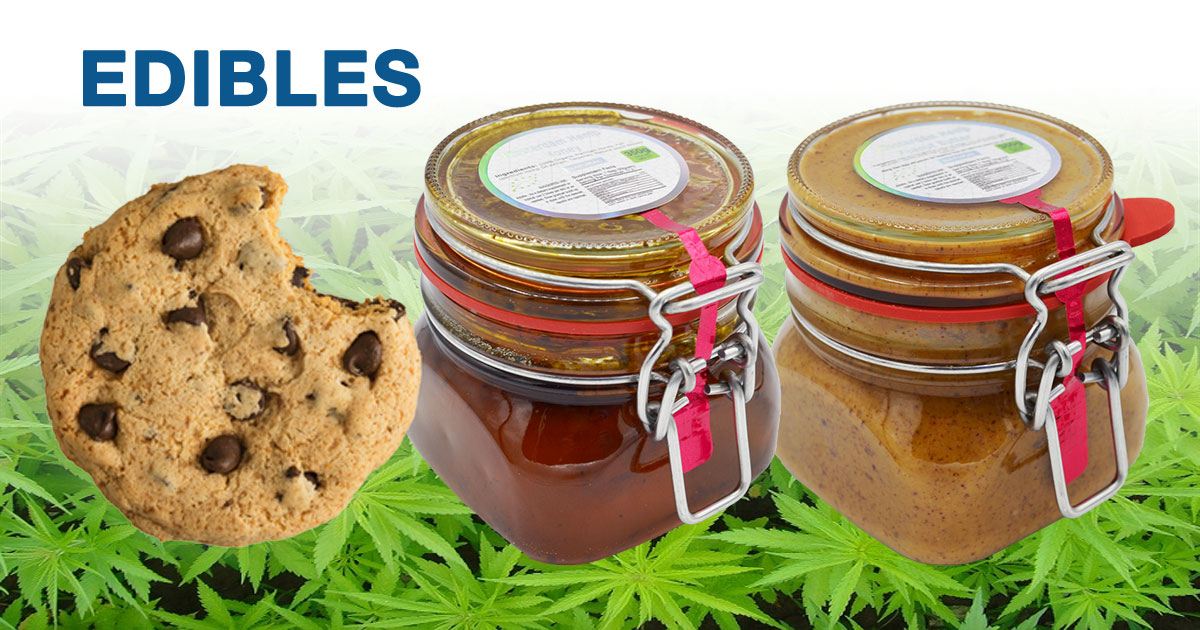 Cookie
Break a cookie in half or in four quarters to try microdosing.
Microdosing
Microdosing is a technique of taking only small quantities of substances for therapeutic purposes.
For medical users, micro-dosing helps you achieve the benefits of the CBD, whether for pain, inflammation, neuroprotection, depression, or anxiety, without leaving you beyond function. By only using enough to achieve relief, without being overwhelmingly high, not only do you improve daily performance, but you help your medicine last longer and cost less, which is important since insurance has yet to cover the costs of CBD-related products.
When imbibing low doses of CBD, you don't perceive you're intoxicated but experience a creative opening that allows you to enjoy the benefits without the side effects. The idea of designing subtle yet profound changes within ourselves using a natural healing plant is an alluring aspect for many.
For recreational users, micro-dosing is just as beneficial. Sure, you can't overdose, but you can over do it. By micro-dosing, you feel great without feeling out of it, and save money by not developing a high tolerance.
Introduction to Microdosing 101, as taught by professor and chef Annie Nelson*.
Step 1: "Always, always, always start low," Nelson warns. "If you're not a smoker, I'd start with 1-2mg of whatever it is, 2.5mg at the most. That's it, and don't take anything else. Then set your alarm for an hour and a half later. Seriously, set the alarm, because you might forget."
Step 2: "Think about what your goal is. Are you trying to relax or rid yourself of anxiety? Are you trying to get high? Are you trying to sleep better?" (More on microdosing for sleep in a minute.)
Step 3: "When your alarm goes off 90 minutes later, ask yourself these questions, and answer them honestly. How do I feel? Do I feel high? Do I feel the way I want to feel? Do I feel like I can function?"
Step 4: "If you feel unchanged after 90 minutes, you know that wasn't enough—and next time you can try twice as many milligrams. So next time you're trying 5mg of CBD, but remember to set your alarm for 90 minutes again."
Nelson also had a side note for the sleepless: "For my friends who are using cannabis to help them sleep better, and that's a huge issue, here's my advice to them: Try a small piece, roughly 5mg, about an hour before you're ready to lie down. When you're doing this for your first time, do it in your own space. When you wake up later that night or the next day, take stock: Did you notice a difference at all? Check in with yourself in the morning: Do you feel any better than you normally do? If not, try a little bit more the following night—but not too much."
As the old edibles adage goes: You can always take more, but you can never take less.
Additional Reading:
https://merryjane.com/health/how-and-why-you-should-microdose-cannabis
http://www.thedailybeast.com/articles/2017/04/27/microdosing-weed-how-to-find-the-right-serving-size-of-edible-cannabis
http://herb.co/2016/05/21/micro-dosing/
5. How to Vape

How to use:
Insert the e-liquid into a cartridge or atomizer, Keep your vaporizer clean.
Shake before each use for best results and keep refrigerated if possible.
More information
How Much CBD Oil Should I Vape?
Guide To CBD & Vaping – Is it For You?